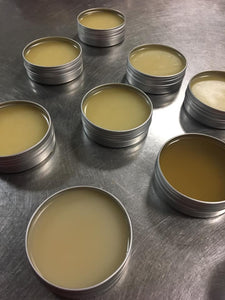 Made with Newfoundland and Labrador Beeswax and Food Grade Mineral Oil. 
This butter is great for wooden cutting boards, rolling pins, salad bowls and utensils.
Can also be used on furniture and leather.
The mineral oil seeps into the wood to prevent it from drying out and cracking. The beeswax provides a light protective film over your woodenware to provide additional protection and reduce dryness.
Apply sparingly to wooden ware and allow to sit over night.
Wipe off excess with a dry cloth.